{"slug":"zaha-hadid-architects-reveal-geometric-exoskeleton-hotel-morpheus-in-macaus-city-of-dreams-resort","status":"published","id":"5bfefcb226a3957ac80e23d1","uuid":"0610447e-3e48-41dd-9357-85b95a3747fc","title":"Zaha Hadid Architects reveal geometric exoskeleton hotel, Morpheus, in Macau's City of Dreams resort","comment_id":"5bad1b70dc34a847f5944649","feature_image":"/content/images/2018/10/Morpheus-Hotel-Zaha-Hadid-Architects-1.jpg","featured":false,"page":false,"locale":null,"visibility":"public","meta_title":null,"meta_description":null,"created_at":"2018-09-27T18:03:28.000Z","created_by":"1","updated_at":"2018-10-02T20:55:40.000Z","updated_by":"5bf71d827934913122a0a49d","published_at":"2018-09-27T18:31:39.000Z","published_by":"1","custom_excerpt":null,"codeinjection_head":"","codeinjection_foot":"","og_image":null,"og_title":null,"og_description":null,"twitter_image":null,"twitter_title":null,"twitter_description":null,"custom_template":null,"authors":[{"id":"5bf71d827934913122a0a49f","name":"Danielle Fox","slug":"danielle","profile_image":null,"cover_image":null,"bio":null,"website":null,"location":null,"facebook":null,"twitter":null,"accessibility":null,"locale":null,"visibility":"public","meta_title":null,"meta_description":null,"tour":null}],"tags":[{"id":"5bfefcb226a3957ac80e23c7","name":"Beauty of the Project","slug":"beauty-of-the-project","description":null,"feature_image":null,"visibility":"public","meta_title":null,"meta_description":null,"created_at":"2018-10-02T20:12:57.000Z","created_by":"5bf71d827934913122a0a49d","updated_at":"2018-10-02T20:12:57.000Z","updated_by":"5bf71d827934913122a0a49d","parent":null}],"author":{"id":"5bf71d827934913122a0a49f","name":"Danielle Fox","slug":"danielle","profile_image":null,"cover_image":null,"bio":null,"website":null,"location":null,"facebook":null,"twitter":null,"accessibility":null,"locale":null,"visibility":"public","meta_title":null,"meta_description":null,"tour":null},"primary_author":{"id":"5bf71d827934913122a0a49f","name":"Danielle Fox","slug":"danielle","profile_image":null,"cover_image":null,"bio":null,"website":null,"location":null,"facebook":null,"twitter":null,"accessibility":null,"locale":null,"visibility":"public","meta_title":null,"meta_description":null,"tour":null},"primary_tag":{"id":"5bfefcb226a3957ac80e23c7","name":"Beauty of the Project","slug":"beauty-of-the-project","description":null,"feature_image":null,"visibility":"public","meta_title":null,"meta_description":null,"created_at":"2018-10-02T20:12:57.000Z","created_by":"5bf71d827934913122a0a49d","updated_at":"2018-10-02T20:12:57.000Z","updated_by":"5bf71d827934913122a0a49d","parent":null},"url":"/zaha-hadid-architects-reveal-geometric-exoskeleton-hotel-morpheus-in-macaus-city-of-dreams-resort/","secure":true}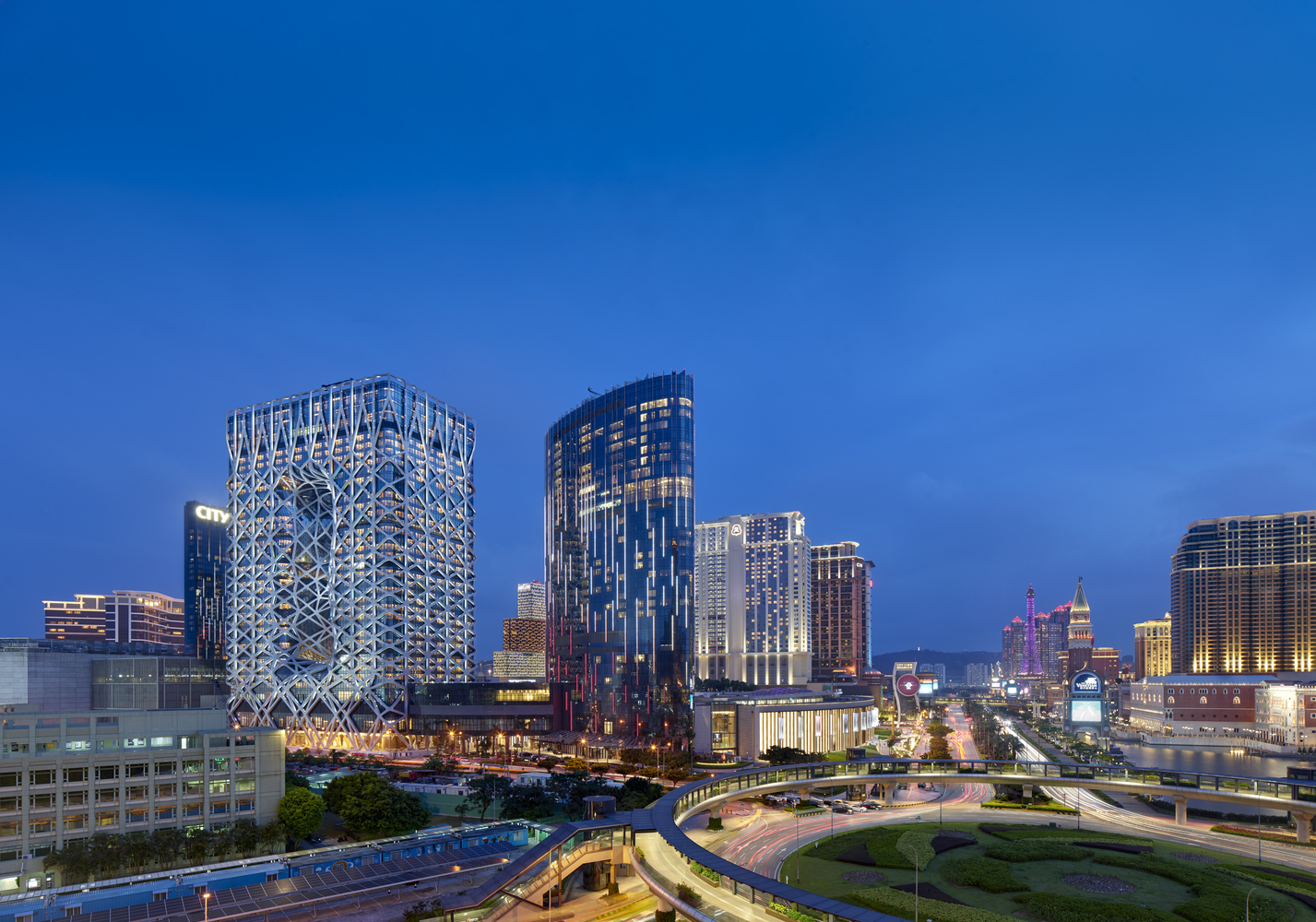 Zaha Hadid Architects have debuted what they've heralded as the "world's first free-form high-rise exoskeleton."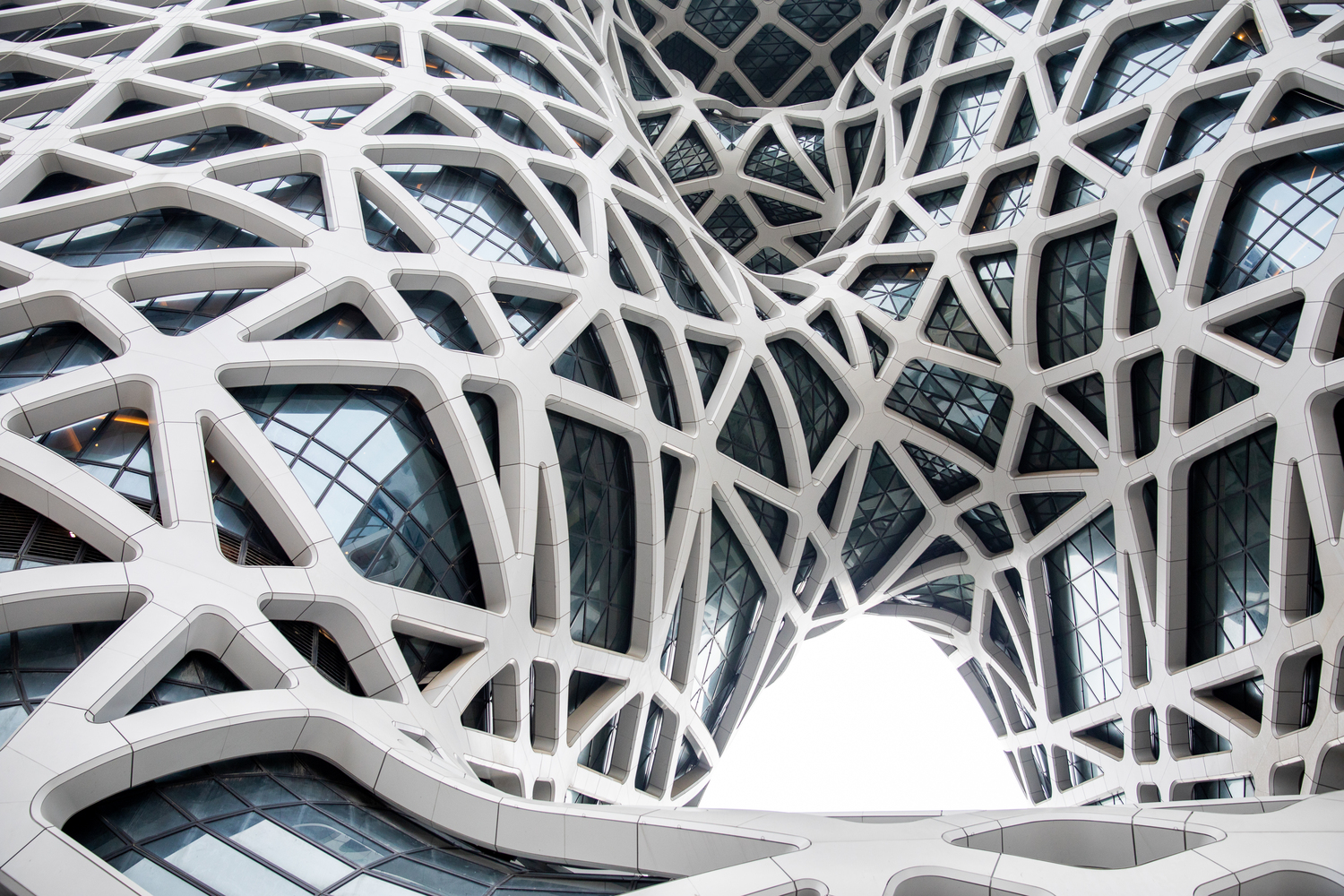 The Morpheus, which opened in the City of Dreams in Macau, China this summer, utilizes an exterior grid that eliminates the need for internal walls and columns. The geometric facade is punctuated by three asymmetrical holes that create what the architects have described as an "urban window" connecting the hotel's interiors to the city, according to Designboom.
"Morpheus combines its optimal arrangement with structural integrity and sculptural form," Viviana Muscettola, ZHA's project director, said. "The design is intriguing as it makes no reference to traditional architectural typologies."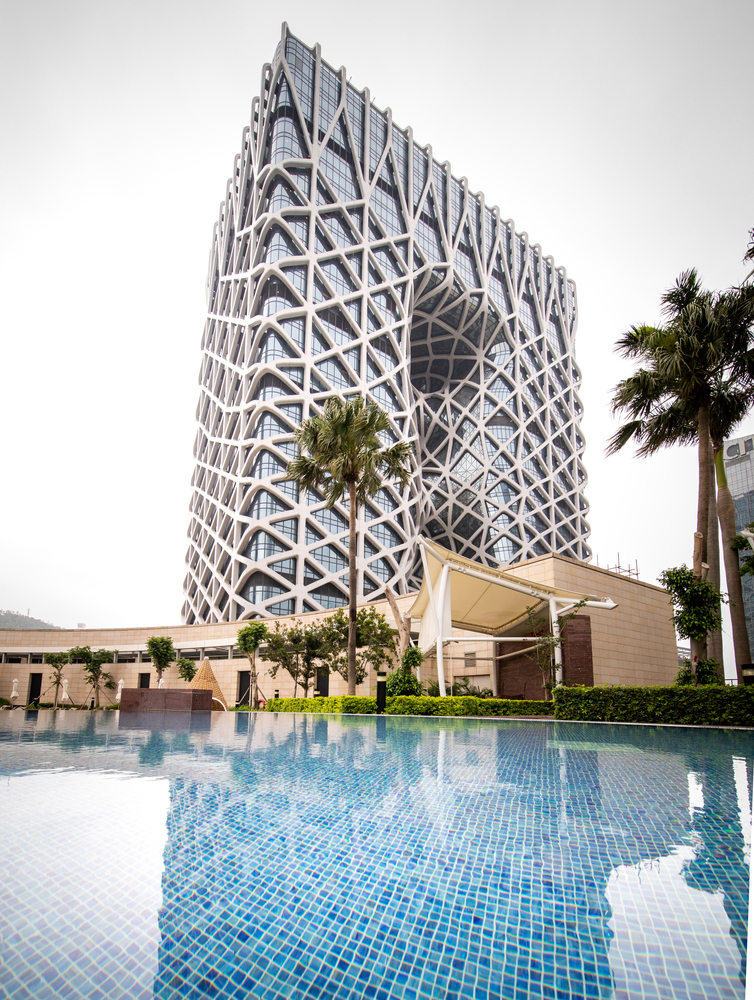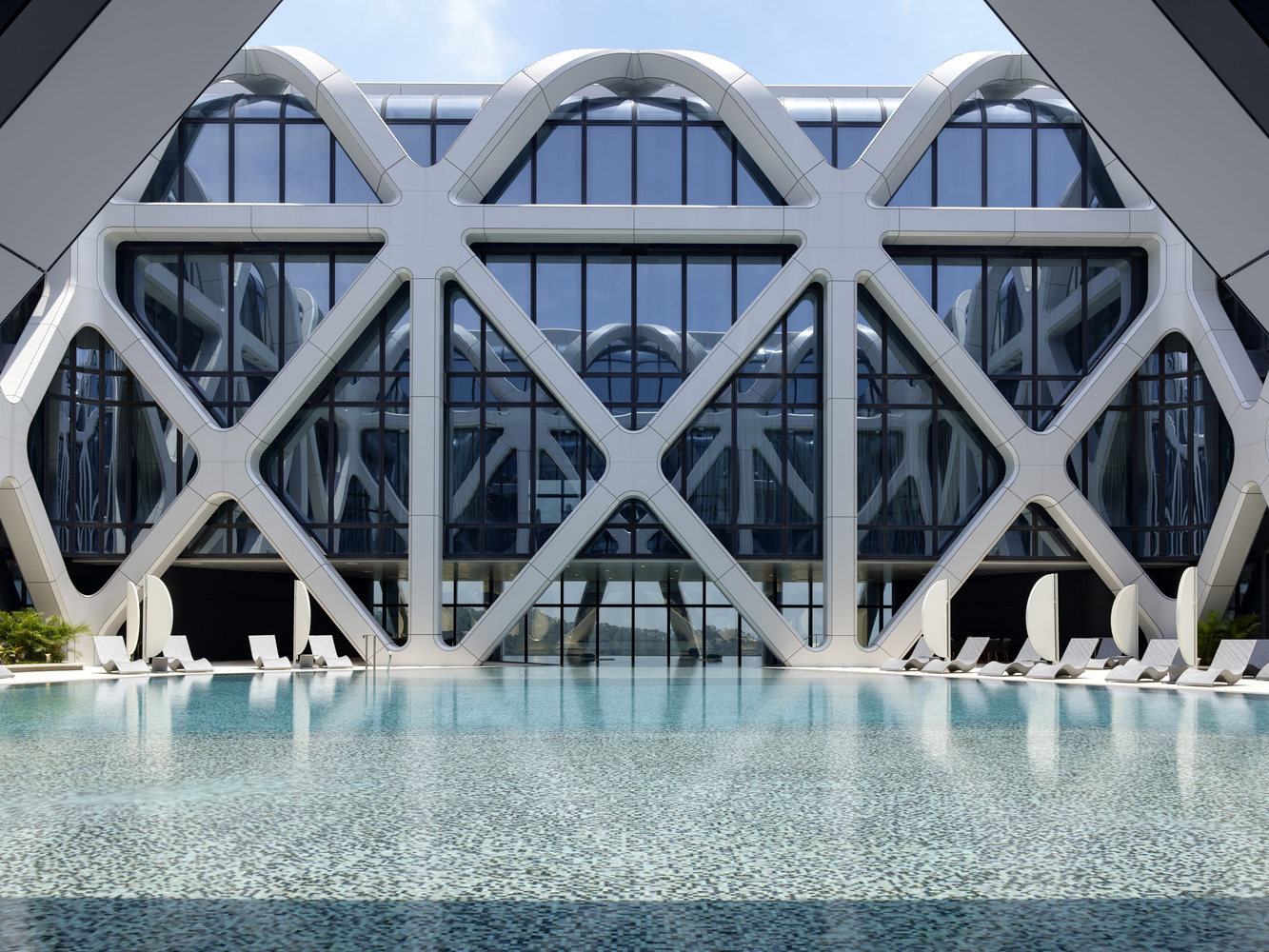 ZHA began building the project on an existing foundation in 2012, and the hotel connects to the resort at the three-story podium at the base. The 40-story building separates then reconnects at the rooftop, which features a spa and pool area overlooking the city. Bridges between the two towers host the hotel's restaurant lounges and bars.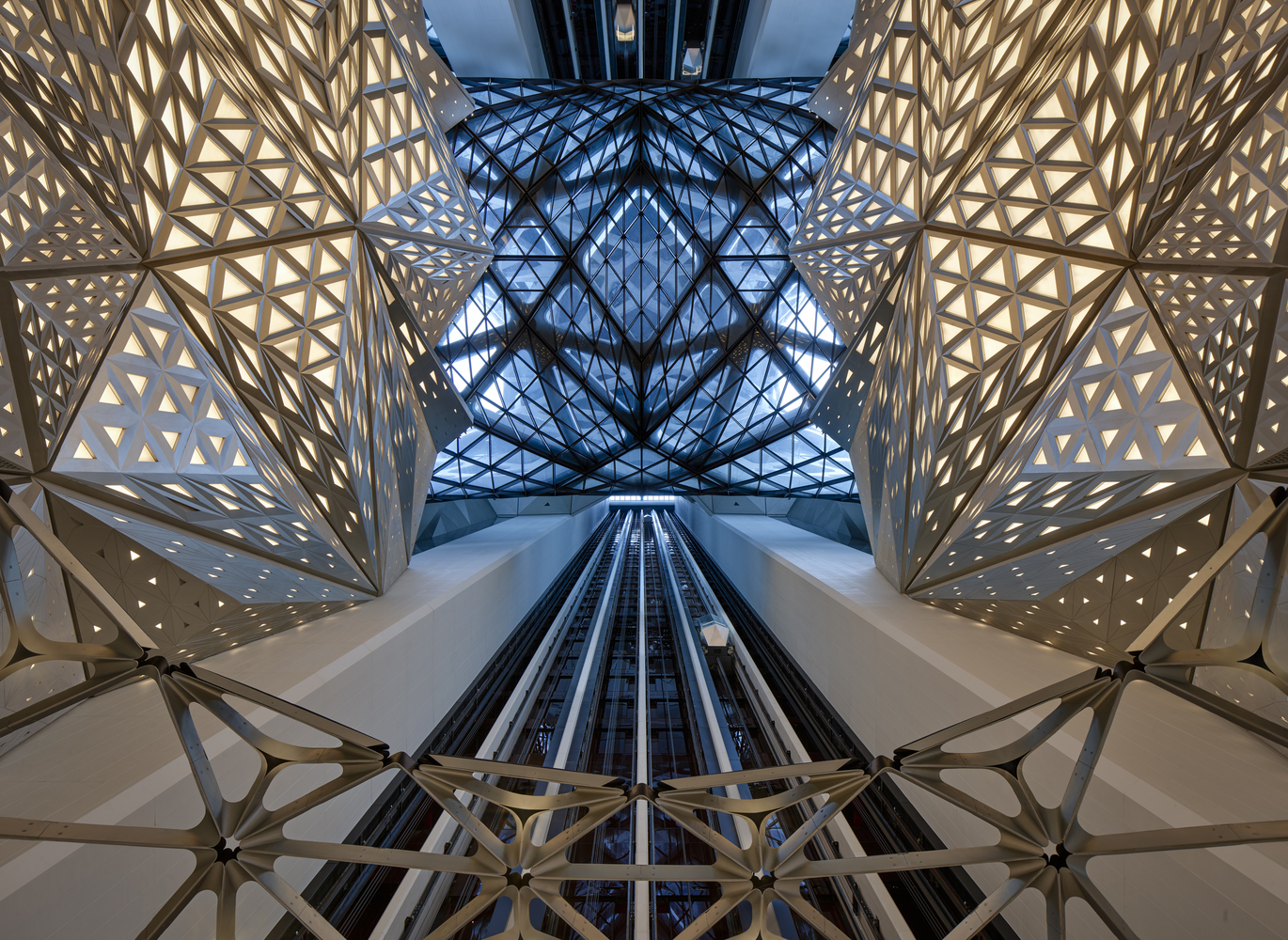 The architects reportedly cited Chinese jade carving traditions as an inspiration for the curves and lines of the rectangular block facade. According to Forbes, the structure was also designed to resemble a stylized number eight, a lucky number in Chinese culture.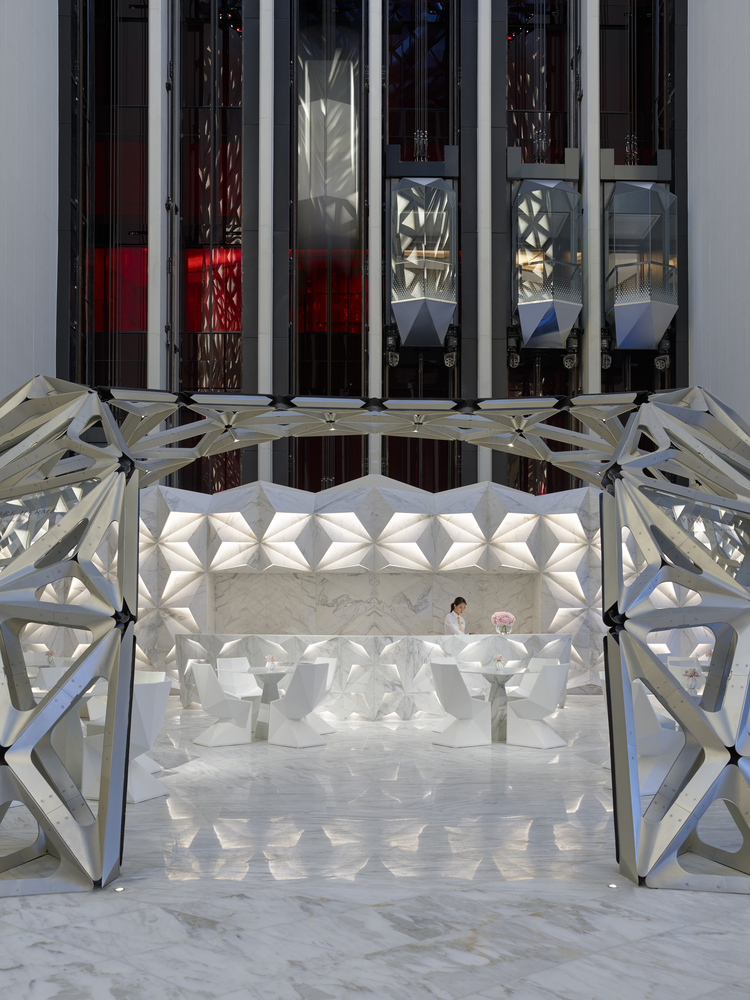 Morpheus, which opened in June, features 770 guest rooms and suites. The carved voids in the structure allow corner suites to look out onto the atrium and the city while also increasing the number of hotel rooms with external views.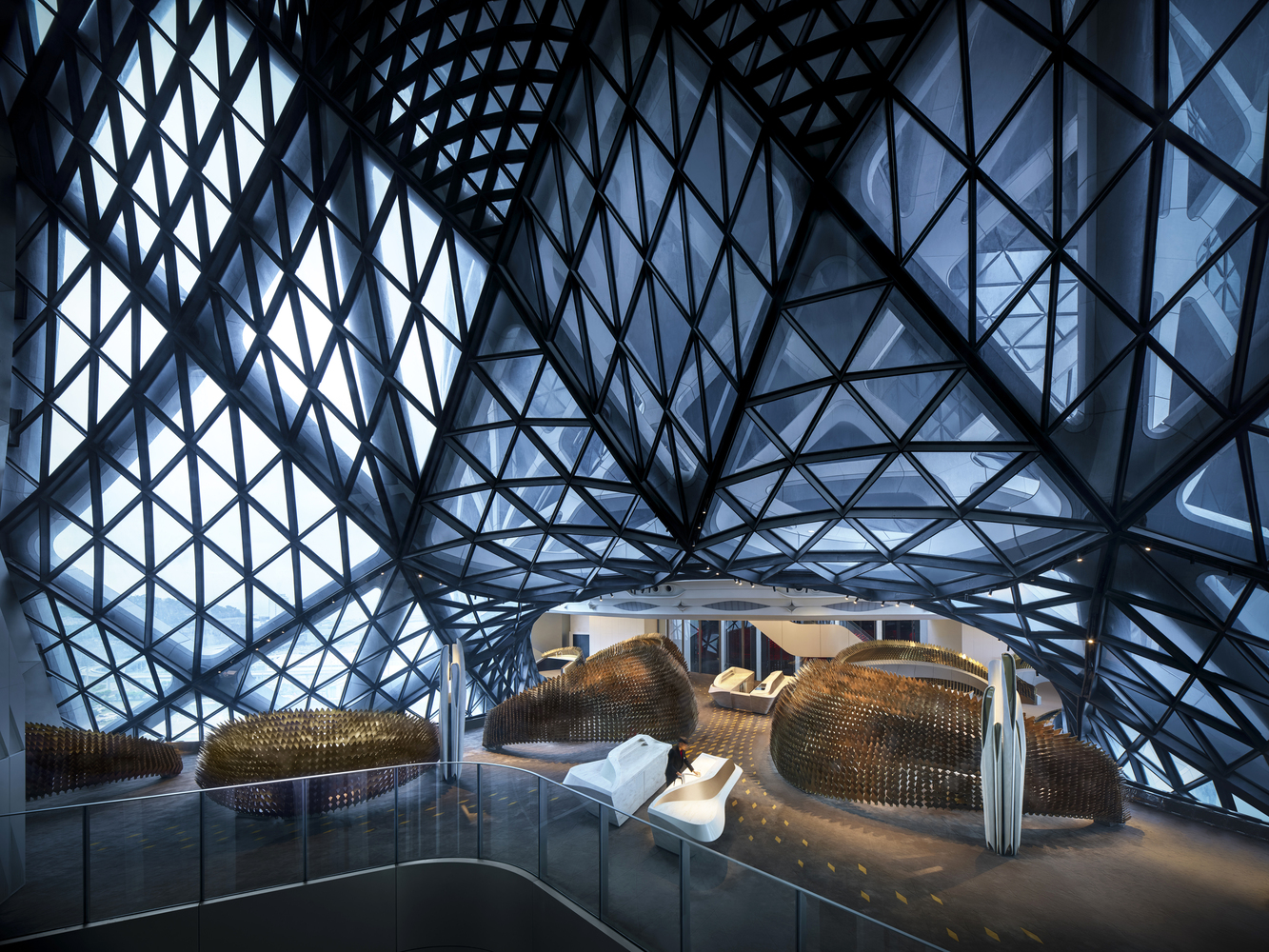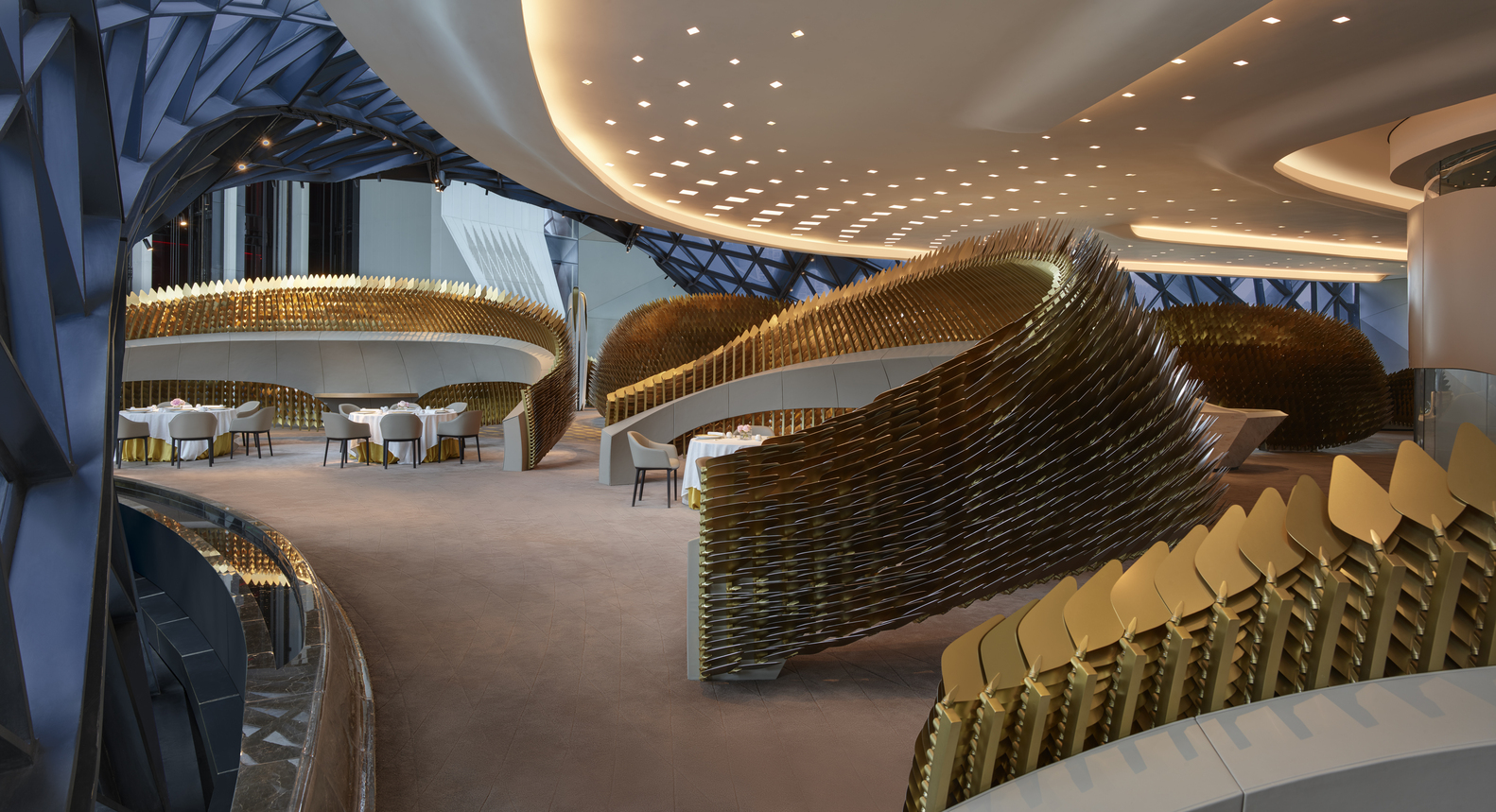 The hotel is the most luxurious of of four in the City of Dreams — a playground of restaurants, theaters stores and a top-dollar casino. With two-floor "sky villas" featuring 24/7 butler service and private pools going for roughly MOP $90,000 a night, the hotel's owners are hoping to build a culture of high-rolling gamblers around the landmark hotel.
Photos courtesy of Ivan Dupont and Virgile Simon Bertrand